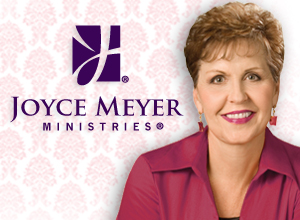 According to Joyce Meyer that they'd rather go the route of not forgiving themselves and feeling guilty than just to be free because Jesus died for us. So this is another example of how the devil will make you wallow in self- pity and feel the pain all the time; that's the devil's work. Remember the three r's of spiritual warfare: recognize, refuse, resist. Recognize: This is the devil; this isn't God. Refuse: Don't think about it. Any guilt that God didn't put there, refuse to think about it, and then resist — resist the devil and he will flee from you.
Joyce Meyer Ministries: It is interesting this thing about self-punishment. It all is rooted in this deep feeling that we have to pay, we have to pay, we have to pay, we have to pay, we have to pay. I owe, I owe, so I have to pay. The good news of the gospel is such good news that we just have a difficult time believing that anything could be that good. It's like how can you just be a bad person all your life and hurt people and do all kinds of bad things and then just because you ask God to forgive you and you're willing to turn away from that life and start a new life, how is it even possible that even God could be so good that he would do that?
R.T. Kendall: This is why we call it good news. When it's too good to be true, that's when you've really heard it. Until the gospel, when it breaks through, is too good to be true, until that happens you probably haven't heard it. But when you are confronted with the fact that in one stroke, by transferring the trust that you had in your good works to what Jesus did for you on the cross, you're saved, you're forgiven, it's over, the war is over, we think, "that's too good to be true." That's why it's good news. It's not good news if you have to add to it and pay for this and do this and do that; God did it by his son.
Joyce Meyer – I think that is so key, especially in our business, because you have so many people, so many backgrounds, so much money, so many different things that you can't treat everybody the same.
&copy Copyright 2012 admin, All rights Reserved. Written For:
Joyce Meyer