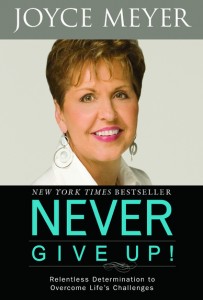 Remembering where you came from makes you thankful.
In our early days of ministry on the road, Dave and I used to sleep in our car in fast-food parking lots because we didn't have enough money to stay at hotels. I shopped for my kids' clothes at garage sales.
At the time, I was worried and frustrated half the time because we just didn't know where the money was going to come from to pay our bills. But God always provided for our needs. Now I understand He was taking us through a process of gradual growth. At first it seemed like nothing was going right for us. But there was a lot of spiritual growth happening under the surface.
Are you tired of going through the process of gradual growth? Let me offer you some words of encouragement: Your time is coming.
Hanging On to Hope at Critical Times
Isaiah 40:31 (NIV) says, "But those who hope in the Lord will renew their strength. They will soar on wings like eagles; they will run and not grow weary, they will walk and not be faint."
Some of us need to have a transition in the spirit. We need to show God we're going to be happy trusting Him, knowing that when the time is right, He'll come through for us. And in the meantime, we're going to be content to serve Him in every way we know how.
We can't despise small beginnings. We can't allow ourselves to think that we shouldn't have to go through difficult times to get where we're going because God is using all of that to help us grow and mature.
It's only through hard work, praying, waiting on God and doing the right thing for a prolonged period of time that we can be fulfilled and have what God wants us to have―and that's the fruit of the Spirit, which includes peace and patience.
&copy Copyright 2013 admin, All rights Reserved. Written For:
Joyce Meyer