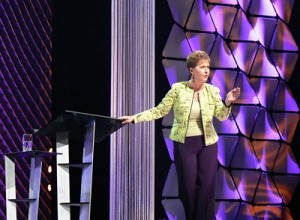 Jentezen Franklin: There's no question that God uses our circumstances. Just a practical example: if you don't have enough resources and you're spending more than you're taking in, those circumstances are screaming to you: you have to get your financial house in order. The same with children; in raising children I've found that if I see one of my children kind of withdrawing, go into their room, not talking, I've just learned to read those things and then if you'll pray about it, the Lord will begin to help you but it all begins with the circumstances.
If you don't have a job, you don't have to pray about, "Lord, do I need to get a job?" Of course you need to get a job! I've found that so many people are waiting on God to tell them everything and sometimes your circumstances will tell you that if the brook is drying up — like Elijah, the brook dried up — that's God saying it's time to move on! I believe one way God speaks to us is absolutely through our energy, through our bodies, and through our peace in our own minds and our own lives.
Joyce: And what it gives you the ability to do… I have two daughters that both had it in their heart to home school. My one daughter tried it for one day and she said, "I cannot do this. This will drive me crazy and I will drive my son crazy." The other one said, "I don't know if I'm going to be able to do this or not but I want to try it." So they both tried it. One of them had no grace to do it. The other one said to me just the other day: I cannot believe the grace of God that is on my life to do this. So, grace is that ability that God gives you to arrange your mind, your body, even your circumstances in such a way that you can do what you do — I'm going to use the words "with ease" although
Joyce Meyer: I don't want anybody to think that means you don't have to press through things. But Jesus said his yoke is easy and light. I just don't think life should be nothing but making yourself do all these things. My one daughter doesn't have to home school because the other one does. We have to learn that we don't have to be able to do what everybody else does.
&copy Copyright 2012 admin, All rights Reserved. Written For:
Joyce Meyer