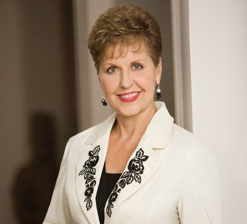 Jentezen: I think the danger is when you don't know, racing ahead instead of being led and stopping long enough, like you said, to give time. If you will just wait and say "Holy Spirit, I'm open to whatever you want to do in this situation," I believe he can reveal that to us but what I did wrong I think is just racing ahead, rushing to judgment. When we do that, we always get in trouble. I think it's a process. I think you learn to discern the voice of God by the mistakes you make, also, because I've missed God but I'm much more cautious now to say "thus says the Lord" or "God told me."
Joyce: You probably learned a lot from that mistake you made and that's one of the things I want to really encourage our viewers about today, is that nobody learns how to hear from God without making some mistakes along the way, no more than a baby learns how to walk without falling down several times. You can't be so afraid of missing God that you will never, ever, ever take a step in any direction to do anything.
Jentezen: That is so true. Faith is spelled r-i-s-k. A lot of times people want every question answered before they move out but I've found that God will often say "go and I'll show" and we want him to show first every piece of the puzzle, and he doesn't do that but when he speaks, there will be a peace.
Joyce Meyer Online: What I have discovered in my life, Jentezen, is that God does lead us one step at a time. You may get a feeling or like when God spoke to my heart about ministry, I felt like he told me, "you're going to go all over the world and preach the gospel and have a large media ministry."
&copy Copyright 2012 admin, All rights Reserved. Written For:
Joyce Meyer