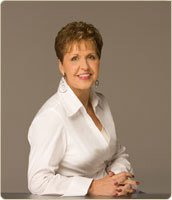 Some of those people you think you should have never gotten hooked up with may be more valuable to you than you realize. You know, we get married and we start fighting about all of our differences and the whole point is the fact that we're different is what brings balance.  Amen? When Dave and I got married, I worried about everything, he worried about nothing. I never had fun. He had fun all the time. He always accused me of running ahead of God and I said:  yeah and you're 10 miles behind him. (laughing) it's so true that you are attracted to what you don't have.
I'm like just:  rowr! And Dave is like:  steady. The greatest thing that I needed in my life was a stable person because I had never been around anybody stable. (applause) while I was growing up, everybody was just like all over the place and you never knew from one day to the next what was going to happen. The greatest gift that my  husband has brought into my life is a stable person who is the same all the time and likes everybody.  I've been married to Dave almost 39 years and I think in those 39 years I could maybe say there have been two or maybe three people that he has voiced that he didn't like in 39 years.
When I started out, there might have been one person I did like. (laughing) I've changed now and I know last night after I talked to you about how I don't have a gift of hospitality, you guys probably thought:  man!  You know what? We talked about the word "hospitality" last night and it means more than having people to your house.  I'm friendly! I just like to do it at somebody else's house. (laughing) (applause) the word "hospitality" means you make people comfortable and I try to do that, too.
&copy Copyright 2012 admin, All rights Reserved. Written For:
Joyce Meyer