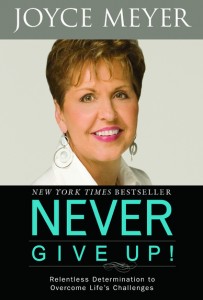 (John Bevere) YOU WILL SEE PROVISION FROM GOD WHEN YOU RESPECT HIS AUTHORITY. YOU WILL SEE PROTECTION FROM GOD WHEN YOU RESPECT HIS AUTHORITY. (music)
(Joyce Meyer) THANK YOU FOR BEING WITH ME TODAY. I'M GOING TO CONTINUE MY DISCUSSION WITH JOHN BEVERE ON HOW TO STAY UNDER GOD'S COVERING AND HOW WE CAN AVOID DECEPTION WHICH OFTEN COMES THROUGH REBELLION TOWARD AUTHORITY. A LOT OF TIMES PEOPLE WHO JUST WANT TO DO THEIR OWN THING ALL THE TIME CAN GET OFF INTO ERROR, AND THEY DON'T HAVE ANY GODLY PEOPLE AROUND THEM TO CHALLENGE THEIR BEHAVIOR. ALTHOUGH OFTEN WE'D LIKE TO JUST DO OUR OWN THING, IT'S REALLY NOT THE SAFEST WAY TO LIVE. JOHN, THANK YOU FOR BEING BACK WITH US AGAIN TODAY.
(John Bevere) IT'S GREAT TO BE WITH YOU, JOYCE.
(Joyce Meyer Online) WE HAD A GOOD TIME YESTERDAY. I'M SURE WE STIRRED UP A BUNCH OF QUESTIONS TOO.
(John) I KNOW WE DID.
(Joyce Meyer Ministries) ACTUALLY WHEN WE CLOSED THE PROGRAM YESTERDAY, WE WERE TALKING ABOUT COMING UNDER AUTHORITY AND WHAT IF THAT AUTHORITY MISTREATS YOU, AND THE DIFFERENCE BETWEEN OBEDIENCE AND SUBMISSION. CAN YOU JUST KIND OF GIVE US A NUTSHELL THING FOR THE BENEFIT OF THE PEOPLE WHO WEREN'T WATCHING YESTERDAY?
(John) WE'VE GOT TO UNDERSTAND WHERE AUTHORITY COMES FROM. ALL AUTHORITY, THE BIBLE VERY CLEARLY SAYS, COMES FROM GOD — ALL AUTHORITY. THEREFORE, A PERSON WHO COMES TO KNOW GOD, COMES TO KNOW AUTHORITY BECAUSE GOD AND HIS AUTHORITY ARE INSEPARABLE. SHOW ME A TRUE BELIEVER AND I WILL SHOW YOU SOMEBODY WHO HAS AN AWARENESS OF AUTHORITY AND A RESPECT FOR AUTHORITY. NOW SAYING THAT, THE BIBLE CONTINUES TO SAY THE OFFICES OF AUTHORITY ARE OF GOD. WE TALKED ABOUT THE FOUR DIFFERENT AREAS THE NEW TESTAMENT SPEAKS OF: CIVIL AUTHORITY WHICH IS GOVERNMENT LEADERS; FAMILY AUTHORITY WHICH IS DOMESTIC; CHURCH AUTHORITY, AND WE ALSO HAVE SOCIAL AUTHORITY WHICH IS OUR BOSSES, OUR COACHES, OUR TEACHERS, ETC. THE BIBLE IS VERY CLEAR THAT THE SOURCE OF AUTHORITY FLOWS DOWN FROM HEAVEN. BUT WHAT WE SAID YESTERDAY AND WHAT IS SO IMPORTANT FOR PEOPLE TO REMEMBER IS ALL AUTHORITY IS OF GOD BUT NOT NECESSARILY ALL AUTHORITY IS GODLY. THERE ARE UNGODLY AUTHORITIES IN THE BIBLE. IF YOU LOOK AT DAVID… LET ME TELL YOU HOW THIS ALL REALLY GOT STIRRED UP IN ME WHERE I GOT SO PASSIONATE ABOUT IT BECAUSE, JOYCE, I FEEL LIKE YOU DO — I KNOW THAT GOD IS PURE LOVE AND HE WANTS PEOPLE TO BE BLESSED. THAT'S HIS DESIRE FOR EVERYBODY TO BE BLESSED. I BEGAN TO SEE IN THE BIBLE THAT THE PEOPLE THAT WERE THE CLOSEST TO GOD AND THE PEOPLE THAT HAD THE MOST BLESSED LIVES WERE THE PEOPLE WHO SUBMITTED TO AUTHORITY — PEOPLE LIKE DAVID. DAVID WAS PLACED UNDER SAUL'S AUTHORITY. SAUL WAS A VERY WICKED MAN, AND DAVID COULD NOT STAND THAT ABUSE. WE TALKED YESTERDAY ABOUT THE DIFFERENCE BETWEEN OBEDIENCE AND SUBMISSION. OBEDIENCE IS OUR ACTIONS, WHEN WE OBEY. SUBMISSION DEALS WITH OUR ATTITUDE. DAVID HAD TO GET OUT OF THE PALACE. HE COULDN'T OBEY SAUL AT TIMES.
(Joyce Meyer) SAUL WAS TRYING TO KILL HIM.
&copy Copyright 2011 admin, All rights Reserved. Written For:
Joyce Meyer