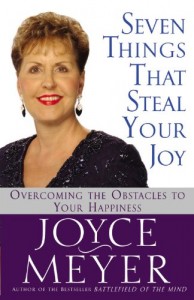 (John) IT WAS LIFE-THREATENING. THERE ARE PEOPLE OUT THERE THAT THEIR AUTHORITIES ARE SO WICKED IT IS LIFE-THREATENING. GET OUT FROM UNDERNEATH IT. DON'T OBEY WHEN THEY'RE TELLING YOU TO SIN. BUT SUBMISSION DEALS WITH THE ATTITUDE. DAVID NEVER EVER LOST HIS RESPECTFUL, HONORING ATTITUDE TOWARDS SAUL, NO MATTER WHAT SAUL DID. THINK ABOUT IT: YOU'RE A YOUNG MAN AND YOUR BOSS HAS CAUSED YOU TO LIVE IN DESERTS FOR FOURTEEN YEARS AND YOU CAN'T EVEN GO SEE YOUR FAMILY BECAUSE YOU'LL GET CAPTURED. HE CAN'T SEE HIS FAMILY OR HIS FRIENDS FOR FOURTEEN YEARS BUT YET EVEN AFTER GOD JUDGED SAUL, AND HE USED THE PHILISTINES TO DO IT, DAVID STILL SANG HIM A LOVE SONG AND HONORED HIM BECAUSE HE NEVER LOST HIS SUBMITTED HEART, WHICH IS ATTITUDE TOWARD SAUL'S AUTHORITY.
(Joyce Meyer) I THINK HE WAS HONORING THE OFFICE OF KING THAT GOD HAD INSTALLED. I THINK EVEN THOUGH HE CLEARLY UNDERSTOOD THAT WHAT SAUL WAS DOING WAS WRONG, GOD HAD NOT REMOVED SAUL FROM THAT POSITION YET. SO DAVID STILL SAW SAUL AS GOD'S ANOINTED AND HE SAID, "I WILL NOT TOUCH GOD'S ANOINTED." EVEN WHEN HIS MEN ENCOURAGED HIM TO, HE WOULD NOT EVEN LET THEM TALK BADLY ABOUT SAUL. OF COURSE, WE SEE THE BLESSINGS ON DAVID'S LIFE. THE GREAT RULER THAT HE BECAME AND JUST WHAT GOD DID WITH HIS BLOODLINE AFTER THAT. THERE ARE MANY BLESSINGS FOR THOSE WHO WILL MAKE A DECISION TO COME UNDER THIS AUTHORITY. WE WANT TO TALK ABOUT SOME OF THAT TODAY, BUT FIRST WE HAVE A GREAT STORY THAT WE WANT TO TELL. THE COUPLE THAT YOU'RE ABOUT TO MEET FOUND THAT IF YOU'RE WILLING TO BELIEVE GOD'S WORD AND OBEY WHAT HE SAYS, HE REALLY CAN DO THE IMPOSSIBLE. ENJOY THIS.
(Joyce Meyer Ministries) LARRY AND CATHY TODD HAVE COME A LONG WAY IN THEIR RELATIONSHIP WITH EACH OTHER AND GOD. CATHY WAS RAISED IN A CHRISTIAN HOME BUT WAS BACKSLIDDEN WHEN SHE MET AND MARRIED LARRY WHO HAD NEVER KNOWN THE LORD. THE FIRST FEW YEARS OF THEIR MARRIAGE WERE FILLED WITH TURMOIL.
(Cathy Todd) WE WOULD FIGHT AND ARGUE ABOUT LITTLE THINGS ALL THE TIME, AND DIVORCE WOULD BE THROWN BACK AND FORTH. WE WERE VERY IMMATURE. WE WEREN'T EITHER ONE LIVING FOR THE LORD.
(Joyce Meyer Online) WITHIN A FEW YEARS, THE COUPLE HAD THEIR FIRST CHILD AND CATHY WAS A STAY-AT-HOME MOM. OVERWHELMED BY MOTHERHOOD AT FIRST, SHE JUMPED AT THE CHANCE TO TAKE A BREAK EVEN IF IT MEANT ATTENDING A WOMEN'S BIBLE STUDY.
(Cathy) AT THE END OF THE NIGHT, THEY ASKED IF ANYONE NEEDED PRAYER FOR ANYTHING AND I FELT THIS HUGE BURDEN ON ME AND I JUST JUMPED UP AND STARTED CRYING AND I SAID, "I NEED TO BE CLOSER TO GOD."
&copy Copyright 2011 admin, All rights Reserved. Written For:
Joyce Meyer